Page précédente
| The Global Internet Industry: the Market
Service client 01 53 21 81 51
The Global Internet Industry: the Market
LES POINTS CLÉS DE L'ÉTUDE :
The medium-term and mega trends of the industry market developments and geographical segments
The competitive landscape and the main corporate rankings
The main conclusions of our report, summarised in 10 analytical slides
Parue le 12/06/2017 - 122 pages - réf : 7XCOM02/GLO
1600 € HT
&nbsp&nbsp&nbspACHETER

Présentation
Plan de l'étude
La collection Xerfi Global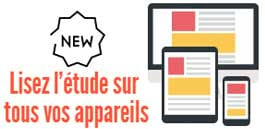 Exclusive extracts from this 121-page-long report:
- What is the business?
Internet companies provide digital products and services in order to connect Internet users with advertising customers through their websites, platforms, applications and other properties. Their main activities include developing and operating Internet-based services, digital content for users, as well as advertising technologies and services for advertisers. […]
- What are the main markets?
Industrialised countries in North America, Europe and Eastern Asia remain the world's largest Internet markets owing to significantly higher Internet penetration rates. However, the number of Internet users is growing more strongly in developing countries, raising their strategic importance for leading Internet companies and providing room for further growth of local Internet businesses. [...]
- Who are the key players?
The world's leading Internet companies are still mainly based in the US, where most of them started as specialised start-ups during the years of the Internet boom between the late 1990s and early 2000s. Various Chinese web companies have also grown into industry giants in recent years, but like other non-US Internet companies they continue to rely almost exclusively on their home market. [...]
- How intense is competition?
Competition in the World Wide Web has become fiercer as the industry has matured from a poorly regulated space for information and data transfers to a highly-monetised, strongly diversified and increasingly regulated market for media, communication, entertainment and marketing services. Rivalry is multi-faceted, with Internet companies competing for users' time spent online and advertisers' expenses through a wide range of products and services, advertising technologies, and prices. [...]
0. Conclusions
1. Market Fundamentals
1.1. Overview
1.2. The Industry
2. Market Environment and Prospects
2.1. Market Overview
2.2. Macroeconomic Environment
2.3. Internet Connectivity and Use
2.4. Online Advertising
3. Corporate Strategies and Competition
3.1. Competitive Environment
3.2. Leaders' Recent Performances
3.3. Structure of Competition
3.4. Corporate Strategies
4. Case Studies
5. Statistical Appendix
6. Sources
7. Annexes
What is the collection Xerfi Global ?
Reports cover market fundamentals, the market environment and prospect, corporates strategies and competition
Over 60 global markets and competition reports
Over 600 companies profiles
The reports provide :
- Decision-makers with analyses and forecasts on the major sectors of the world economy
- Alerts concerning world forecasts and major sectorial or business developments
- Key information on commodities, exchange rates and country performance
En savoir

Cette étude a été ajoutée à votre wishlist d'études, disponible dans votre espace « Mon compte ».
Cette étude a bien été supprimée de votre wishlist d'études.