Page précédente
| Leading Players of the Global Internet...
Service client 01 53 21 81 51
Leading Players of the Global Internet Industry
LES POINTS CLÉS DE L'ÉTUDE :
The medium-term and mega trends of the industry market developments and geographical segments
The competitive landscape and the main corporate rankings
The main conclusions of our report, summarised in 10 analytical slides
Parue le 19/06/2017 - 69 pages - réf : 7XCOM12/GLO
1200 € HT
&nbsp&nbsp&nbspACHETER
Plan de l'étude
Présentation
Liste des sociétés
La collection Xerfi Global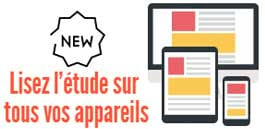 1. Overview
1.1. The Sector
1.2. Ranking
1.3. Performance Analysis
2. Company Profiles
2.1. Alphabet
2.2. Facebook
2.3. Tencent
2.4. Baidu
2.5. Yahoo
2.6. IAC / Interactive Corp
2.7. LinkedIn
2.8. Twitter
2.9. Yandex
2.10. Sina Weibo
3. Sources
4. Annexes
Exclusive extracts from this 69-page-long report:
- Who are the key players?
Internet companies provide digital products and services in order to connect Internet users with advertising customers through their websites, platforms, applications and other properties. US internet companies have come to dominate the global web in terms of revenues as well as worldwide users, building on their strong innovative power, large financial clout, and first-mover advantages in many foreign markets. [...]
Groups analysed in this report include: Alphabet (Google), Facebook, Tencent, Baidu, Yahoo, IAC/Interactive Corp, LinkedIn, Twitter, Yandex, and Sina Weibo.
- What are the players' strategies?
Major internet companies' strategies continue to be tailored around increasing user traffic on their web properties in order to gain a greater share of the digital ad market. Product development and targeted acquisitions are crucial to preserve the attractiveness of their web properties in the eyes of developers and increasingly sceptical online advertisers. A strong focus on mobile platforms has also become vital to attract global internet users, who increasingly access the web via mobile devices. […]
- What are the players' key growth and profitability drivers?
With online advertising remaining by far the industry's main income and profitability source, Internet companies are stepping up efforts to broaden and diversify their revenue streams as a hedge against volatile online ad spending and intensifying competition. Google for instance derived roughly 88% of its income from online advertising in 2016 (compared to more than 97% in 2010) as it has been diversifying its business away from digital advertising by investing in new projects including hardware (smartphones, TV streaming device, virtual reality headset) and software (cloud services, application sales, intellectual property). [...]
What is the collection Xerfi Global ?
Reports cover market fundamentals, the market environment and prospect, corporates strategies and competition
Over 60 global markets and competition reports
Over 600 companies profiles
The reports provide :
- Decision-makers with analyses and forecasts on the major sectors of the world economy
- Alerts concerning world forecasts and major sectorial or business developments
- Key information on commodities, exchange rates and country performance
En savoir

Cette étude a été ajoutée à votre wishlist d'études, disponible dans votre espace « Mon compte ».
Cette étude a bien été supprimée de votre wishlist d'études.